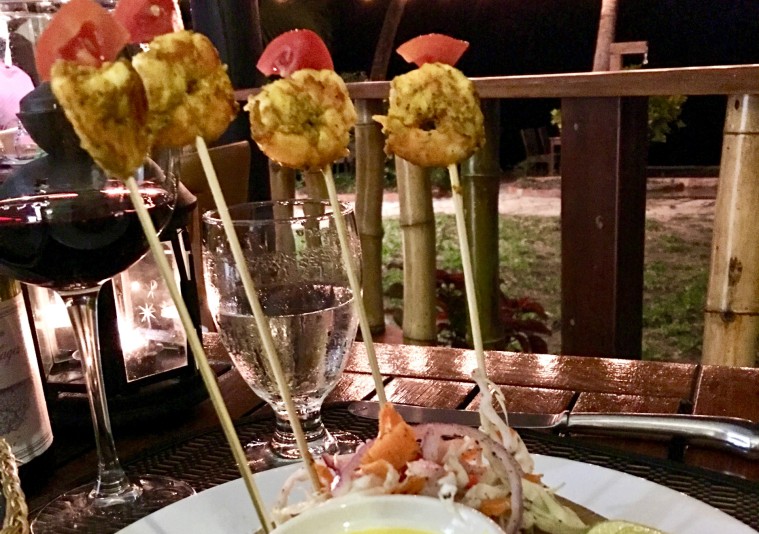 The taller the shrimp, the closer to face. At Aquarium, Magazine Beach, Grenada (Doug Wallace)
My shrimp are very tall
GRENADA—What's better than a day at the beach? The supper that follows it, of course. The food scene in Grenada is relatively robust for an island of just 110,000. We experience it first at the family-run Calabash Hotel, the island's only Relais & Château-rated property on the southern Lance Aux Epines Beach. It only takes a few bites to be almost overwhelmed on the vine-covered terrace of the resort's destination restaurant, Rhodes, its kitchen minded by British celebrity chef Gary Rhodes. We sink into our chairs and just let the food journey wash us away for a couple of hours. Thanks, Zack!
Winning over tourist hearts—and thereby, dollars—through their stomachs is a win-win. At Laluna, the Italian-Caribbean fare sticks to our ribs, the menu's homemade ravioli, pastas and risotto propped up by deliciousness like lionfish smothered in butter and grilled barracuda with pineapple salsa. We drift into dessert watching the bats dive-bombing the pool to take sips.
Over at the bustling Coconut Beach Restaurant, dishes like curried conch and ginger lobster get the full French Creole treatment, right down to the pumpkin soup. And at Aquarium on Magazine Beach, a whirl of waiters swirl around with tray after tray of gorgeous seafood—roasted black cod, curried conch or "lambie," tuna tartare, tandoori shrimp. We are in heaven, snapped out of the reverie by a steel drum band. How they manage to play so quietly I'll never know.
The main reason Grenada's menus hit the spot is thanks to the many spices the island is well-known for: nutmeg and mace, turmeric, cinnamon, pimento, bay leaves, cloves and ginger. As well, the tree-to-bar chocolate is beyond good. All of the above made it into my luggage, treats for everyone that pack flat. We actually stop into the House of Chocolate twice and hope they don't remember us the second time. They do, but they don't care.