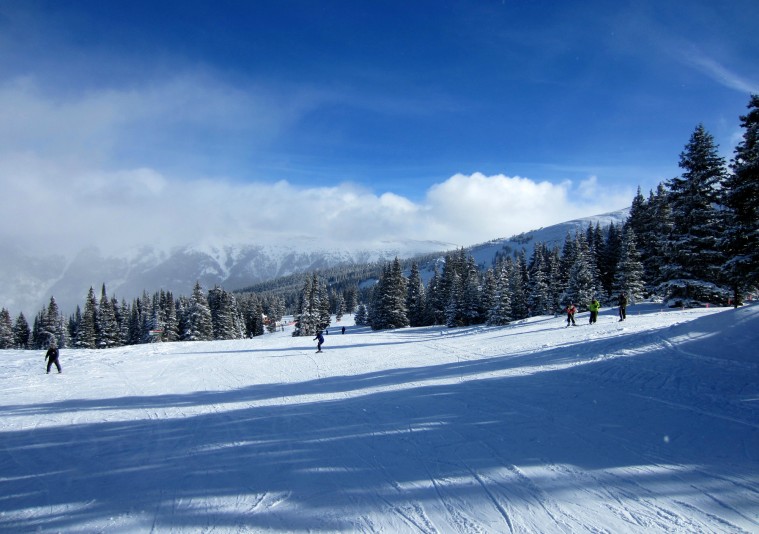 Expect breathtaking views and perfectly groomed runs. (Doug Wallace)
Colorado: Copper Mountain
Copper Mountain, home to a fabulous 148 trails and 24 lifts, plus the only full-length, early-season training venue in the world, the U.S. Olympic Ski Team Speed Center.
Ski! The 2,500 acres of pristine slopes of Copper Mountain steepen naturally from west to east, with the elevation topping out at 3,800 metres (with a 835-metre vertical drop). Despite the calibre of skiing that goes on there, you still find green runs at the top of the mountain, allowing for groups of varying skill to actually spend the day together; the experienced don't have to say goodbye to the beginners at the bottom of the hill. Expect breath-taking views and perfectly groomed runs.
Play! With one million guests a year, this resort plays host to all crowds, international and local—family, college and otherwise. A quaint and very manageable centre village is full of après ski fun in the form of skating, zip-lining, big drinks and tiny doughnuts. And after the ski hill does you in, an hour (or two) on the four-lane tubing hill will bring out your inner child, and make beer time all the more rewarding.
Jump! The indoor Woodward at Copper Barn facility, an indoor year-round training ground with Olympic-grade trampolines, you can play away with foam pits, a skate bowl, ramps, jumps, the works. It's worth a visit if only to watch the cool kids do their thing on mountain bikes and skateboards, or see aerialists practice their jumps. An intro session will see you on the trampoline for a couple of hours with a coach.
Hydrate! There's only one hiccup to being up in the clouds so high: It's all fun and games until somebody gets altitude sickness. Common after 8,000 feet above sea level, this ailment leaves you feeling like you have the flu or a hangover or both. Two litres of water before noon is almost mandatory, and throw in the odd Gatorade to feel sporty. Speaking of drinks, you will also notice that one vodka can actually feel more like two vodkas. Bonus! You're a cheaper date than you thought!
Rest! Copper Mountain has a sort of communal reception for accommodation, where they then mete you out to the various lodges surrounding the centre village, each with underground parking. Chalet-type furnishings (log lamps, Murphy beds) are comfortable and cool. Each lodge is equipped with a large outdoor hot tub, but sadly no time machine.
Drink! You can't throw a stone and not hit a drink of something in this place. The college kids favour Mulligans Irish Pub because it stays open the latest, while the older set goes east to JJ's Rocky Mountain Tavern, which will most likely have live music.
COPPERCOLORADO.COM
VISITCOPPERMOUNTAIN.COM