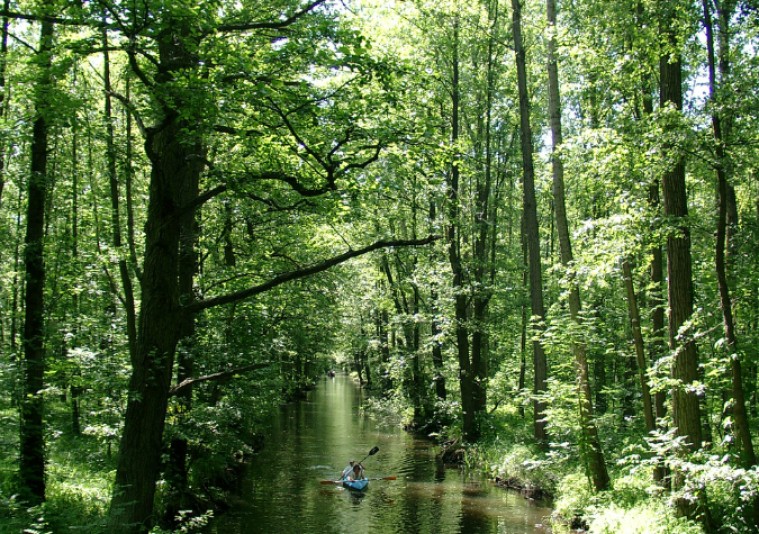 Ice Age-created canals weave through forest and farmland in the Spreewald.
Germany: The Spreewald
Once part of relatively untouristed East Germany, the Spreewald is one of the Brandenberg region's best-kept secrets. The pickles aren't bad, either.
I could barely pronounce Spreewald, but I knew I was going to like it here. And this wasn't just any canal. It was one of the 300 natural, ice age-created canals weaving through forest and farmland in this UNESCO-designated bio reserve just one hour south of Berlin.
Centred around the towns of Lübben, Lübbenau and Burg, the Spreewald is a tourist-friendly farming-community and summer-home kind of place, complete with quaint inns, lush parkland, camp grounds, ancient castles, engrossing museums—and a giant quirk: There are almost no roads. People get to and from their homes by hand-paddled, flat-bottomed, pine river boats called "punts." The kids go to school by punt; even the postman delivers mail on a punt.
The first tourists arrived in the 1850s along with artists who came to paint the landscape, allegedly before the tourists ruined it. This created a considerable melting pot, the fancy Berliners and their bohemian friends rubbing shoulders with local farmers. Happily, this mix continues today to the benefit of all involved.
Explore. More than 300 km of waterways thread through the more than 475 square km of meadows, islands, trees and forests in the Spreewald—which translates to "Spree woods" in connection with the Spree River—with 44 locks keeping it level. Tourists take boat rides from the marina in Lübbenau through the woods or find a cycling route to the adjacent villages.
Step back in time. The Spreewald Museum highlights what life was like 100 years ago, with dioramas depicting the general store, various workshops such as the bakery and cobbler, even the pub. Tours conducted by staff in period dress are part of the weekly event schedule. Steam locomotive the Spreewaldbahn takes up an entire adjacent building, surrounded by railroad artifacts.
WHERE TO STAY: IN THE SPREEWALD
Eat a pickle. This is the land of the Spreewald gherkin, a pickle so famous it is actually trademarked. More than 500 hectares of land are dedicated to cucumbers, which favour the warm and humid climate, or so it says in the nearby pickle museum, which is more interesting than it sounds. With 150 different pickle recipes, the Spreewald clearly has this market cornered.
Try the sauce. At Quappenschanke in nearby Lehde, I fell in love with the simply named Frankfurt green sauce, a traditional cold concoction of sour cream, boiled eggs, spices and herbs, among them chives, chervil, parsley and sorrel.
Milk a plastic cow. Lehde's noted Freilandmuseum brings together buildings from various Spreewald forest farms into one open-air walkabout space. Visitors meander through typical turn-of-the-century farmhouses and outbuildings, including workshops and barns. At least the fibreglass cow doesn't kick.