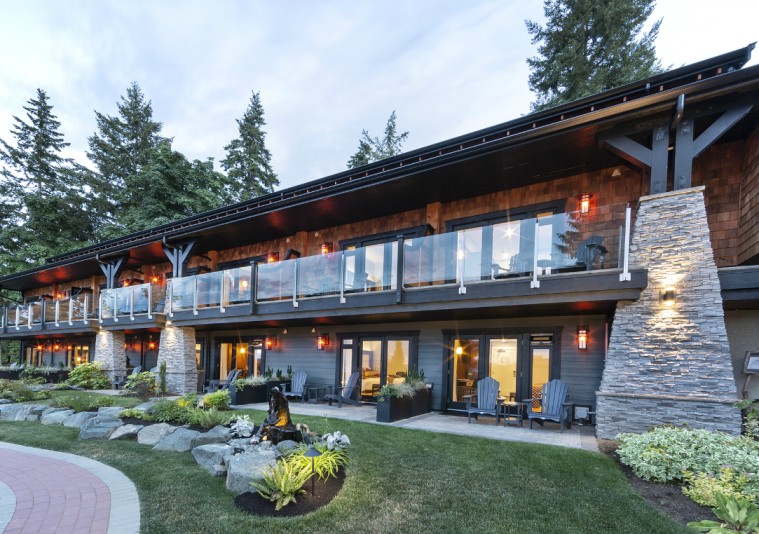 The new wing at the Kingfisher is a sexy, wood-and-leather heaven.
Courtenay-Comox: The Kingfisher
The Kingfisher Oceanside Resort & Spa near Royston on Vancouver Island is many great things rolled into one tidy package—boutique beach resort, destination spa, yoga retreat and top-rated restaurant. Guests can sink into soothing hands at the spa, realign with a yoga class, take a dip in the outdoor pool, breathe in the lavender-scented sea air, watch the boats cruise around the Gulf Islands or sit in a garden chair and do nothing at all.
Vibe: Special occasion celebrants, weekend-away couples, small groups of friends—all check in at the Kingfisher to put their feet up for a few days, relax at the spa, take advantage of the full yoga schedule at Starfish Studio and tuck into fabulous meals. The restaurant and spa are destination spots for locals, too, which makes the mixed-company mix more interesting.
Rooms: Heated bathroom floors! Spacious oceanfront rooms have large, comfortable beds, a giant wall of patio doors, two easy chairs in front of a gas fireplace, a handy kitchenette and a right-in-the-room whirlpool bath. Given the wellness focus of the resort, the tub don't seem as naughty or cheesy as many do. A new wing of courtyard and ocean-view rooms is polished and prime, with shiny wood floors, panelled walls, leather furniture and nice cotton.
F&B: Contemporary West Coast goodness can be found in Ocean7, a fine-dining restaurant that hits all the local and sustainable notes with a focus on seafood, grain-fed meats and organic produce. The view is spectacular, made even more natural by the moss-covered, driftwood strewn rooftops of the oceanfront buildings—such a cool idea. The adjacent AQUA Bistro & Wine Bar serves more casual fare and opens up onto an expansive patio overlooking a courtyard garden complete with gas fire pits.
Extras: The Pacific Mist Spa is the real draw to the Kingfisher, with its rainfall showers and Italian-tiled everything, a nice pool and an infrared sauna. The signature highlight is the Pacific Mist Hydropath, a detoxifying hydrotherapy circuit designed like an underground cave with eight different elements, including mineral pools, waterfalls (hot and cold), a steam room and a salt-scrub tub.
THINGS TO DO: ON VANCOUVER ISLAND
Off-Site: Vancouver Island's gorgeous eastern coastline sets the scene here, with breathtaking views of Comox across the bay and a few Georgia Strait islands off in the mist with the mountains and Sunshine Coast beyond. You are close to Comox Valley activities and wineries, and not that far from Highway 4, which leads to the west side of the island, Tofino and Ucluelet.
Rate: $$
Book Now