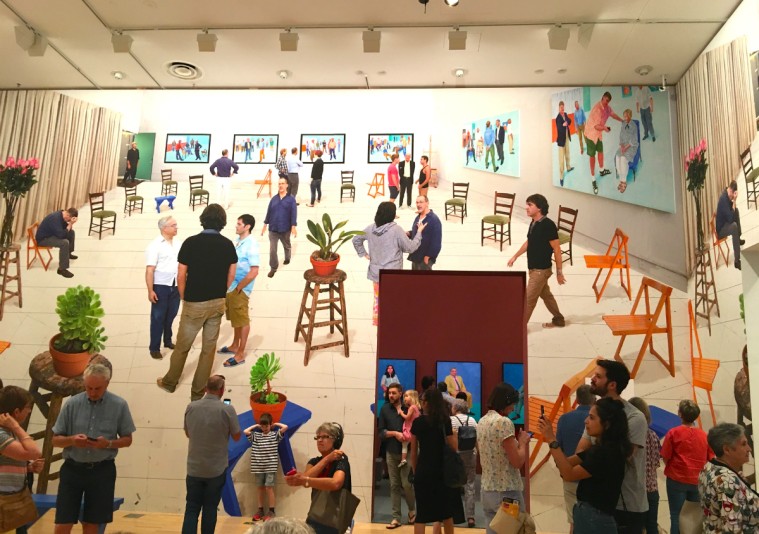 The National Gallery of Victoria has not one but two locations. Both are free. (Doug Wallace)
Australia: Melbourne
Cosmopolitan and creative, fun and friendly, Melbourne is consistently voted one of the most livable cities in the world.
From the eclectic northeast and thriving central business district to the riverside parks and chic bayside south, Melbourne hums with variety, sporting covert boutiques and bars, mind-blowing cuisine, unrestrained architecture and an all-around, great attitude.
Make camp. There are dozens of places in Melbourne to lay your head, at multiple price-points, from the super up-market to the cheap and cheerful. Inspired by and dedicated to Australian contemporary artists, each property within the Art Series hotel group features the work of a particular artist, with Adam Cullen being the focus of The Cullen. Two restaurants, hip neighbourhood, you're all set. Six, luxury airstream campers imported from the U.S. sit on top of a car park on Flinders Lane at Notel—futuristic and fun, but also beautifully designed, quiet and comfortable. Find gourmet chocolate, private decks, and free mini bars. And with sophisticated, high-design, gel-topped beds, and a beautiful rooftop lounge, The QT chain is one of the most popular high-end hotels trending at the moment.
Order up. You could eat out in Melbourne every day for a year and barely scratch the surface. The dining scene is a healthy and hearty, headed up by innovative and award-winning chefs. Casual but dramatic Russell Street wine bar Embla highlights unique wines to wash down inventive wood-fired oven dishes. Capital C cool. Old-world char-grilled goodness at San Telmo on Meyers Place parades the very essence of Argentinian culture and cuisine. Warm and welcoming. Gertrude Street nightspot Marion blends small plates with small-batch wines in a rustic setting. One of top chef Andrew McConnell's many Melbourne restaurants. And hallowed Crossley Street staple Becco does authentic Italian up perfectly, right down to the terrazzo floors and starched whites. Simple and superb.
Drink up. Five o'clocktails or midnight nightcaps, Melbourne knows how to prop up a bar in the best possible way. Dark and sexy, L.A.-like Russell Street juke joint Heartbreaker shakes the meanest cocktails under a neon glow. Pick up a gift box of their bottled best-sellers to-go. Noted cocktail bar Eau De Vie Melbourne off Flinders Lane is sexy and fun, with a 16-page whiskey list and a private whiskey room to peruse it in.
Wander the laneways. The secret passageways that wind through Melbourne's central district are full of surprises—Centre Place and Degraves Street among them. Many connect two major streets while others hit a dead-end. What looks like a nothing alleyway can yields a cool bar, top restaurant or fab hair salon. Many of them began life as market lanes, with stalls congregated near pedestrian thoroughfares. Today, they're home to gift shops, food pit stops, arts and crafts, vintage goodies and more. Five lanes earmarked for graffiti artists make for great photo ops. Top fashion laneways include Howey Place and Scott Alley.
Take a wine tour. Plan ahead to get out of town to the Yarra Valley to devour some of the region's best wines. Add in the rolling countryside, terrific views and kangaroo-spotting, and you've got a brag-worthy day trip. The Australian Wine Tour Company is the pick of the pack for getting you there and back with maximum winery coverage.
Soak up the art. The National Gallery of Victoria has not one but two locations: one for international exhibits opposite Queen Victoria Gardens and one focusing on Australian art, a.k.a. the Ian Potter Centre at Federation Square. Both are free.
Go for a walk. There are 50 walking tours in the city, but the one you want is Walk Melbourne, a culinary romp through the Melbourne side streets. Monique Bayer and her team can take you on one of eight different tours built around dumplings, coffee shops, rooftop bars or a combination thereof (The Melbourne Experience).
Troll the arcades. Get lost in the three square blocks of shopping malls clustered around the Bourke Street Mall at Bourke and Elizabeth Streets. Mega retailers sit side-by-side with the beautifully preserved Block Arcade and Royal Arcade, which exude Victorian glamour.
Hit the beach. Hop on the St. Kilda Road streetcar south to St. Kilda beach, where you can dig in the sand, walk the pier, cool off with a swim or hop on an amusement ride in historic Luna Park. Cafés and bars along the boardwalk at the weekend see the cool crowd stepping out for late-afternoon beverages.
AUSTRALIA: ISLAND PARADISE
VISITMELBOURNE.COM