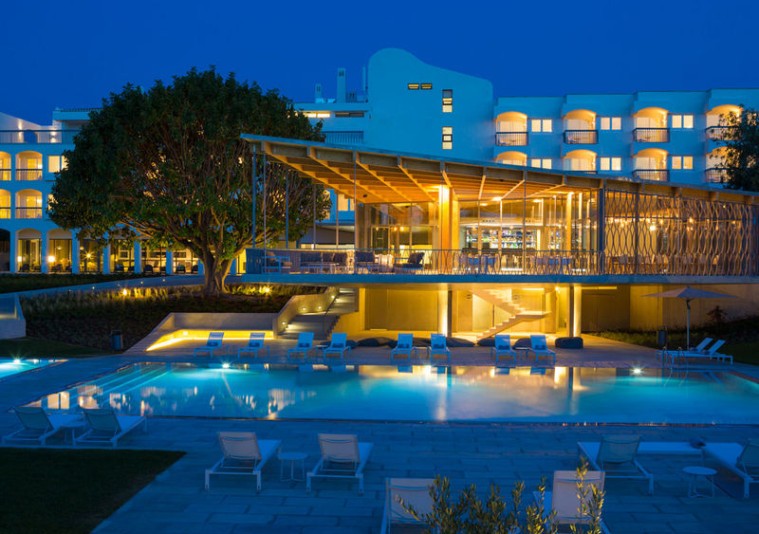 The Ozadi pool will make you feel like you're an extra in a spicy European film.
Portugal: Ozadi Tavira
An oasis in the Eastern Algarve resort community of Tavira ticks all the right boxes.
Portugal's south coast is awash in the most fabulous beaches, and the eastern side of it is the country's best-kept secret. Right in the thick of all this bliss sits the 77-room Ozadi Tavira Hotel, which was built in the 1970s and renovated to the nines in 2014. It manages to maintain the original character of that swingin' decade, blending on-trend colours, cork design details and local traditional homewares into its hyper-mod space.
Vibe: The crowd is a leisurely one, primarily special-occasion celebrants, wee families, retirees and honeymooners. Everyone seems to fit in here and everyone has come specifically to relax and enjoy the scenery.
Rooms: A modern mix of local craftwork and retro embellishments dress up the public areas and the rooms. Finishing touches like cork end tables, colourful ceramic light fixtures and headboard artwork add a local link, fusing the hotel with the surrounding region. Rooms come equipped with a mini bar, free Wi-Fi, air conditioning and a room safe, plus natural, marine-based bathroom amenities. Furnished balconies with views of the gardens, the hotel pool or the countryside amp up the luxe factor.
F&B: Two restaurants here: The Ozadi Terrace, serving buffets with a view of the sea, and the Orangea Bistro overlooking the pool. Both offer Mediterranean and regional cuisine heavy on the seafood (naturally) and both have outdoor patios that are open at different times of the day. A third-floor cocktail bar and a pool bar are often home to live music and sunset get-togethers.
THINGS TO DO: IN THE EASTERN ALGARVE
Extras: The Ozadi's wellness offerings are considerable considering the hotel's smallish size, with massages and facials, detox and weight-loss programmes, and personal trainers. A Padel court come with equipment and classes. The pool is superb—beautifully designed, quiet yet glamorous—like you're an extra in a spicy European movie. Shaded areas, grassy expanses and the restaurant patio are all steps away.
Off-Site: The Ozadi is mere minutes from the region's iconic beaches, world-class year-round golf and quaint seaside villages. Tavira itself dates back to 2000 BC, so there's plenty of history to sink your teeth into, including 37 churches. Cacela Velha, a small fishing village overlooking the Ria Formosa, is a great spot to wander through before or after a nice, three-hour lunch. Medieval castle ruins at Castro Marim date from 5000 BC. Visitors also take advantage of loads of nature tourism, horseback riding, cultural tours, kitesurfing and windsurfing.
Rate: $$
Book Now