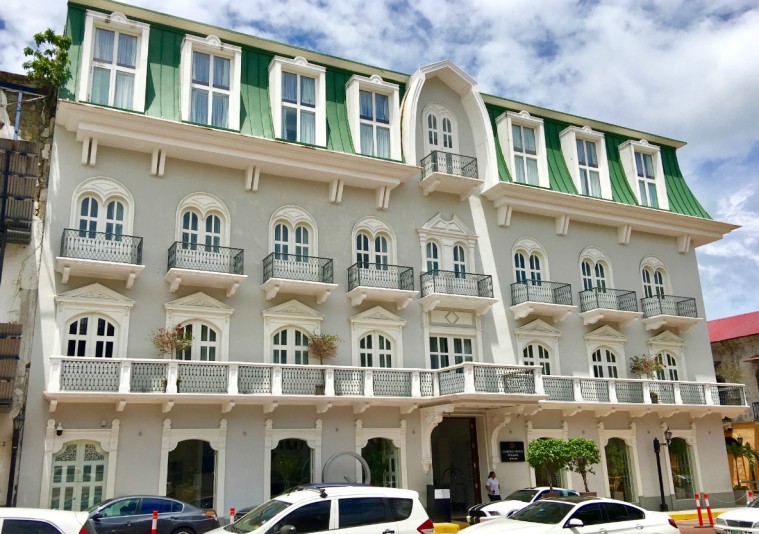 From the outside, Central Hotel Panamá looks just like it did in 1874.
Panamá: The Central Hotel
Panama City's very first hotel is recognized by UNESCO for its architectural significance within the Casco Antiguo, a designated World Heritage Site in Panama City.
The Central Hotel was built in 1874 and reopened in 2016 after a major renovation restored its 135 rooms to their former glory. Developers stuck close to the original French-influenced designs, preserving the hotel's façade, vaulted ceilings, grand staircase, gabled rooftops and all.
Vibe: Everyone here is well-heeled and has a jacket or two in their suitcase. Expect special-occasion celebrants, families enjoying family time, and a business crowd that is in tune with the good value.
Rooms: The décor of the Central Hotel's 135 rooms is elegant in its simplicity, naturally favouring a colonial-style, with white walls adorned with simple art, oatmeal rugs, crisp white linens and white padded headboard, all contrasted with dark wood flooring and wooden chairs. White double doors open up to mini balconies with metal railings. The modern bathroom is so shiny you may need sunglasses.
F&B: Guests tuck into a nice tapas lunch at Bistro Central, which spills out onto the sidewalk patio out front. For dinner, the elegant La Central will set you up with a nice, juicy steak. The rooftop Bar Lounge has one of the best views in the city.
Extras: The little swimming pool on the roof is quite darling and perfect for late-afternoon daydreaming, overlooking the neighbourhood's ceramic-shingled roofs and out to the Panama City skyline. Very romantic.
Off-Site: The hotel sits on the east side of Plaza de la Independencia, opposite the Cathedral, in the very center of the cobblestoned Old City or Casco Viejo. This is where much of the city's nightlife is situated and where most of the tourists anchor their stay, so the mix of local and visitor is both intriguing and welcome. This part of town is also one of the safest. The Central Hotel is walking distance from some of the best restaurants in town, as well as the Panama Canal Museum and the Panama Art Society.
Rate: $$
Book Now