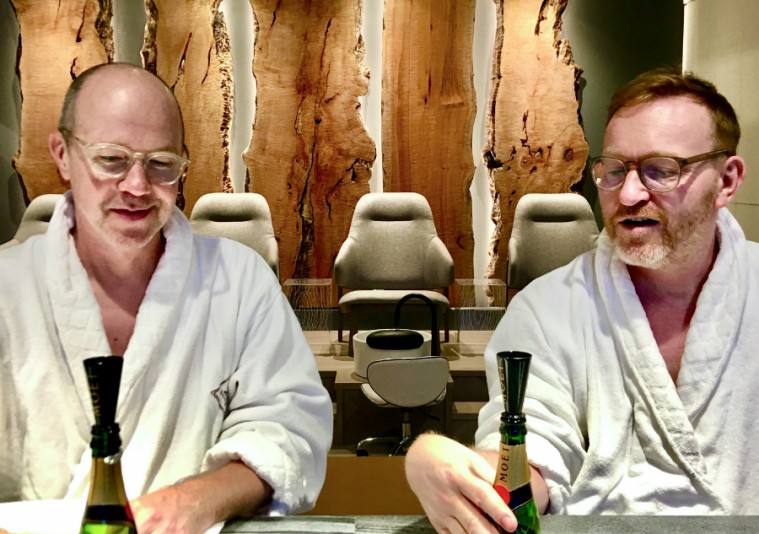 When life hands you hands, keep 'em tidy. Popping the Moët at Nita Lake Lodge.
We put the man in manicure
WHISTER, BC—I've been threatening to cut Tim's hair for days now, as it grows shaggier and scoobier every day. He doesn't think I'll actually do it. Lots of time for lots of other detailed grooming, however. Such was the case not that long ago in Whistler at the new nail bar at Nita Lake Lodge. Pardon me if I hit it like Princess Man Bath here for a moment.
The lodge turned what was a yoga studio into an extension of their already great spa, creating a nail bar on the main floor without skimping on the bar part. We sat down in our white robes for a chin-wag with the ladies and manicures, popping the baby Moëts, which lasted longer than anticipated. (Not sure why I held back.)
READ MORE ABOUT: NITA LAKE LODGE
With views of the lake and loads of natural wood detail, the nail bar is a stunner. This is also where they're doing other champagne-forward treatments, not just pedicures but facials, including a hydrafacial. And when you're done, you pop out to the heated pool and hot tubs for a soak and/or more Moët from the adjacent Cure Lounge. Put this resort and this particular treat on your list for when they open back up. The lodge and Whistler itself, for that matter, is a year-round delight.
I'm sure all the boys at Whistler Pride & Ski  really appreciated our attention to detail.