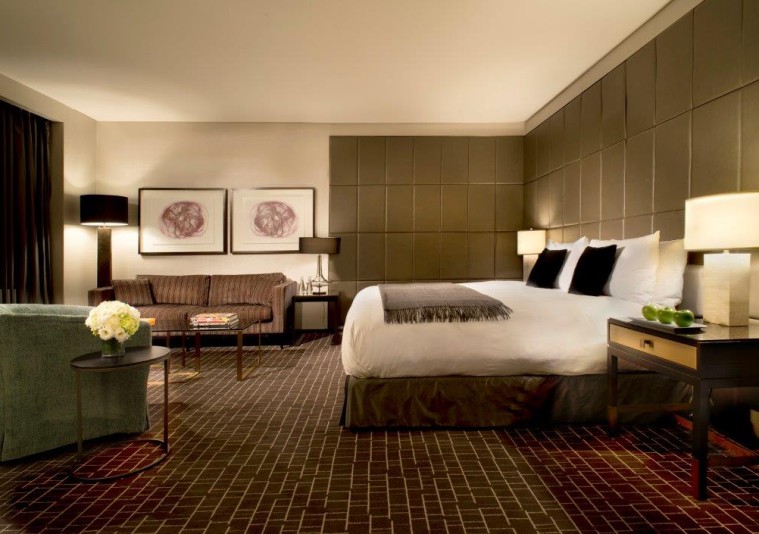 Rooms at The Hazelton are spacious, uncluttered and subdued, with huge wardrobes and electric drapes.
Toronto: The Hazelton
The welcoming and well-maintained Hazelton Hotel hits all the right luxury, service and style notes to make it popular with the international chic-seeking crowd. This Trip Advisor favourite is anchored by Mark McEwan's ONE Restaurant and ringed with one of the sultriest patios in town.
Vibe: The independent Hazelton Hotel has the type of full-on luxury favoured by lifestyle-conscious high-achievers from the worlds of art, fashion and entertainment, including the occasional pop star. The style speaks of a well-appointed old-style private club—all dark and plush, with plenty of texture and cozy seating nooks. Retro colours—rusts, greens and oranges—are given a contemporary twist, with amber lighting, metal accents, soft fabrics and ostrich leather warming things up.
Rooms: All three tiers of accommodation sport rooms that are spacious, uncluttered and subdued, with huge wardrobes, swivel TVs, a mini bar, a pillow menu, drapes you can manipulate from a bedside switch, and a through-the-roof thread count. A Nespresso machine will help kick-start your day. A sexy, dark green granite bathroom doesn't feel overdone and comes replete with heated floors, TVs embedded in the mirrors, L'Occitane amenities, a big bathtub with Epsom salts and a separate shower. Nineteen of the 77 rooms have walk-out balconies, with the rest featuring Juliet balconies.
F&B: ONE Restaurant is a destination in itself, helmed by one of Canada's leading chefs, Mark McEwan, who, in addition to having his own TV show, The Heat, was one of the judges on Top Chef Canada. Classic French and Italian flavours are matched with the best ingredients Ontario has to offer. A classic P.E.I. grass-fed beef selection of steaks is supported by hearty seafood items and a selection of decadent pasta dishes, plus a huge starter list that includes things like salmon tartare, fresh oysters and grilled octopus.
The intimate Neil Young private dining room is sequestered at the back of the restaurant. Guests can enjoy 24-hour in-room dining. The lively bar is perfect for people-watching and a boxwood-lined patio is always busy.
Extras: Find attentive, luxury-calibre service from a team of staff that is quick off the draw to call you by name. A full-service spa touts Swiss product line Valmont. The spa and fitness centre changing areas have large steam rooms, with a lift that takes you down to a tranquil salt-water pool. A 25-seat screening room can play host to everything from business presentations to sports events to Oscar parties. The Yorkville Room seats 70 people for intimate private suppers or business luncheons.
Off-Site: Tucked away in the tree-lined heart of Toronto's up-market Yorkville district, the Hazelton overlooks a cluster of fashionable boutiques, bars and restaurants, all just a two-minute walk from Toronto's Mink Mile, the city's designer shopping strip.
Rate: $$$$
Book Now