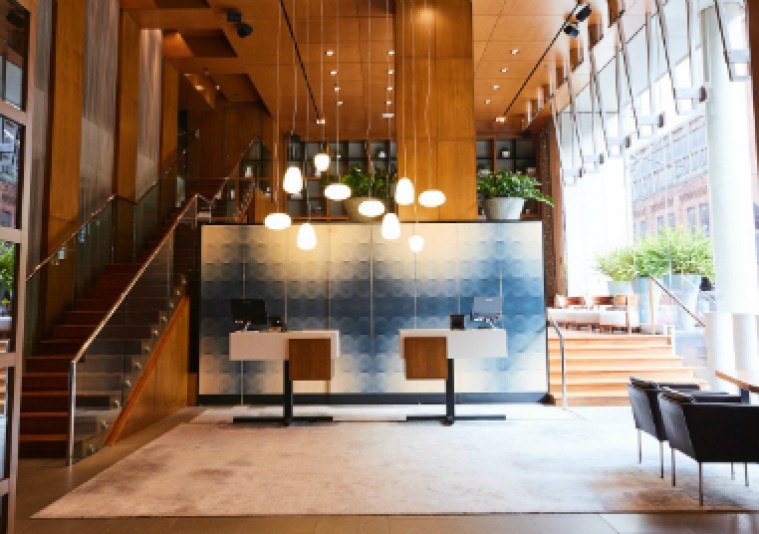 Tucked away on quiet and unassuming Mercer Street, Le Germain is more hideaway than hotel.
Toronto: Le Germain Mercer St.
Built in 2002 in what used to be a hat factory, this stylish boutique property run by the Quebec-based, family-run Le Germain chain of hotels is a cozy retreat catering to everyone from creative business travellers to weekend sporting-event staycationers.
Vibe: Tucked away on quiet and unassuming Mercer Street, Le Germain is more hideaway than hotel. Comfortable and unstuffy, it plays host to business travellers from the creative industries, local staycationers and brand-loyal French Canadians. Nature-inspired colours, patterns and textures bring a little bit of the outdoors inside, creating a Zen, walk-in-the-woods atmosphere.
Rooms: With dark furnishings, plenty of rich wood, grey concrete ceilings, thick wooden Venetian blinds and forest floor-patterned carpet, the 123 rooms exude style. Recycled felt wall covering dampens the sound. Even sexier is a white moulded-Corian bathroom sink and vanity, and a mirror backlit with flattering, brilliant-white light. Accoutrements include a baby Bose stereo, espresso machine, kettle and minibar.
F&B: Sporting an American bistro vibe, Victor Restaurant Bar is open all day, serving breakfast, lunch and dinner in a soothing room filled with soft grays, blue leather banquettes and dramatic dark grey drapery. A swirling gold metal light fixture doubles as an art installation. A classic menu is kept simple, leaning on comfort: things like root vegetable cassoulet, butter roasted scallops and braised lamb shoulder.
Extras: Early adopters of the no-checkout-time policy (when you book direct), Le Germain is ahead of the curve in terms of fitting themselves into the rhythms of the guests, rather than the other way around. A sumptuous lounge-library a few steps up from the lobby has sofas so deep they almost swallow you whole. A mezzanine boardroom holds up to 100 people and a 24-hour fitness centre with a great view is located on the 11th floor. Repeat guests can arrange to leave items like workout wear behind for their next visit.
Off-Site: With so much within walking distance, including the subway, the location couldn't be better. Rogers Centre, the CN Tower and Ripley's Aquarium of Canada are a five-minute walk away, as are two of Toronto's top live-theatre stages and the Toronto International Film Festival Lightbox. A few blocks east sits Roy Thompson Hall, home of the Toronto Symphony Orchestra, and the famous Second City comedy club is just at the end of the street.
Rate: $$$
Book Now