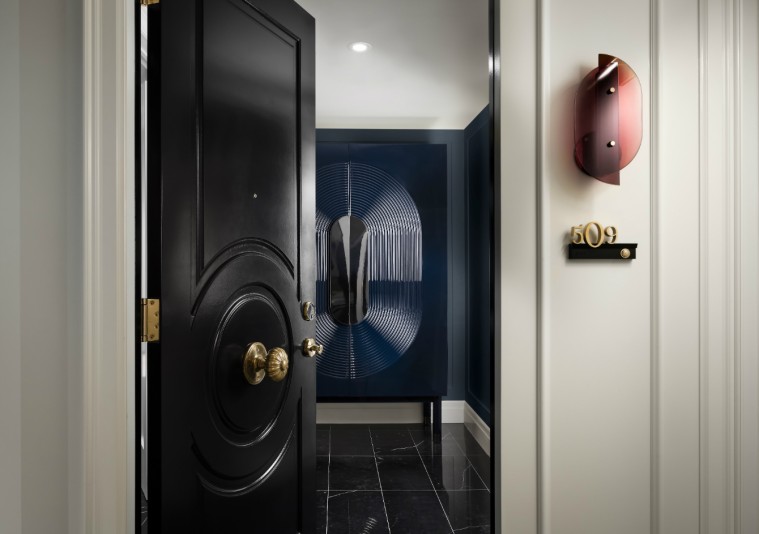 The Bisha Hotel Toronto sports a Deco-inspired vibe.
Toronto: The Bisha
With almost 100 rooms over five storeys—including an entire floor designed by rocker Lenny Kravitz—the stylish Bisha Hotel Toronto from Canadian hospitality impresario Charles Khabouth marries laid-back glamour with razor-sharp design, offering boutique-hotel intimacy alongside luxury-chain comfort.
Vibe: Managed by Loews Hotels, the Bisha takes over the first eight floors of a 44-storey tower, which it shares with 350+ condos. Visitors are welcomed into a lobby that exudes sex appeal via black marble, crushed velvet and etched gold. The chic public spaces are bold, lavish and textured, with panelled walls, natural stone, soft leathers, lacquered wood trimming and rich textiles. The whole hotel has an art-gallery vibe, complete with dozens of Warhol prints and more than 3,000 pieces of art.
Rooms: Old-school opulence and jet-set glamour are mixed with modern yet eclectic aesthetics in the decently sized rooms and suites. The overall approach to the design of the rooms was "Your Coolest Friend," hence the bar cart, patent-leather sofas and Instagrammable salon-style art. The prints and photos, which are different in every room, look like they were collected over time, adding to the design cohesion. Deco-inspired lacquer armoires are over-the-top gorgeous, as are the bathrooms replete with Nero Marquina marble and satin nickel finishes. Lenny Kravitz brought a rock-and-roll sensibility and soulful elegance to the design of 14 rooms, including the 2,000-square-foot Bisha suite, which features a 1,000-square-foot terrace.
F&B: Internationally renowned Iron Chef contestant Akira Back lends his talents and his name to the Bisha's main restaurant, his first in Canada. Hot and cold sharing plates run the gamut between tartare, tataki, tacos and tempura. The list of sushi, sashimi and signature rolls is long and tantalizing. Breakfast, lunch and dinner is served on the 44th floor at the white oak-panelled KOST, a bright beach house-style space sporting porcelain table tops and a modern Mexican menu. Mister C. Bar Room off the lobby is dark, sexy and subdued, with plush, low furniture, a smart cocktail menu and a lengthy whiskey list, all inspiring tasteful tête-à-têtes.
Extras: Facilities include a very large fitness centre that also caters to building residents and a 2,300-square-foot event space on the 43rd floor with state-of-the-art audio/visual. An outdoor infinity pool and patio off KOST restaurant on the 44th floor sport a stunning view of downtown.
Off-Site: At the epicentre of Toronto's Entertainment district, the Bisha is a five-minute walk to both Rogers Centre (home of Blue Jays baseball) and the CN Tower. Ripley's Aquarium of Canada, Roy Thompson Hall (home of the Toronto Symphony Orchestra) and King Street West nightlife are a 10-minute walk away. You can reach both the Business District and the Toronto Harbourfront on foot in 15 minutes. The Second City comedy theatre is across the street.
Rate: $$$
Book Now