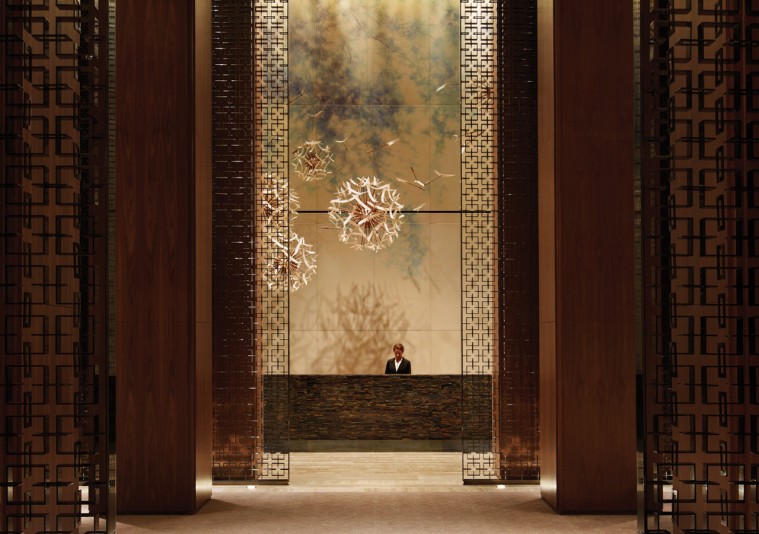 Right in the heart of the Yorkville, the Four Seasons is a two-minute walk from Toronto's Mink Mile.
Toronto: The Four Seasons
The flagship property of the Toronto-based Four Seasons brand is pure five-star heaven. Built in 2012, it maintains a glowing reputation for service and opulence on all fronts, an urban retreat for business and leisure luxury travellers, special-occasion celebrants and incognito celebrities.
Vibe: The Four Seasons Toronto is timeless, modern and sophisticated, warm and welcoming. Expect vaulted ceilings, floor-to-ceiling windows and acres of mahogany, accented with black and gold. The hotel celebrates homegrown design talent and artwork, showcasing 1,700 pieces of Canadian art throughout. The lighting in the entire hotel is so flattering, visitors Instagram about it constantly. Typical, loyal Four Seasons fans include business travellers during the week, with tourists taking over at the weekend. Visiting celebrities and athletes inject a dash of glamour any day of the week.
Rooms: The expansive 259 rooms and suites over 21 floors are beyond comfortable. The design is contemporary, with cozy textures and muted colours, grey rugs and European oak flooring, ample bleached Koto wood veneer cabinetry and windows that actually open. Bedside iPads provide info on restaurants, recreation and special events and a wee Bose speaker pumps out ample sound. Big bathrooms are clad in Canadian marble and feature a soaker tub, a spacious shower, a makeup/shaving mirror and a TV embedded in the main mirror. Rooms are equipped with Nespresso machines, but no sign of George Clooney.
F&B: Globally renown Michelin-star chef Daniel Boulud created the 120-seat French brasserie Café Boulud on the second floor. The classic bistro dishes, including whole rôtisserie duck and chicken, were inspired by the type of family-style meals Boulud remembers from growing up near Lyon. Breakfast is also an event here, with delectable Parisian-, American-, Italian- and Canadian-inspired items. Boulud is also the orchestrator of the bustling dBar on the main floor, its lively social scene and excellent menu a hit with the whole city.
Extras: The 30,000-square-foot, full-service spa is one of the best in town, with 17 treatment rooms and an indoor pool. Change rooms are massive and luxurious, incorporating a full lounge, steam room and sauna. A 3,500-square-foot, state-of-the-art gym with an adjoining yoga studio is open 24 hours.
Off-Site: Right in the heart of the fashionable Yorkville district, the Four Seasons is a two-minute walk from Toronto's "Mink Mile" of luxury-goods retailers, fine restaurants, galleries and cafés. The Royal Ontario Museum is a 10-minute walk west. Many guests rarely leave the neighbourhood. Those who do, find themselves conveniently equidistant from uptown and downtown.
Rate: $$$$
Book Now