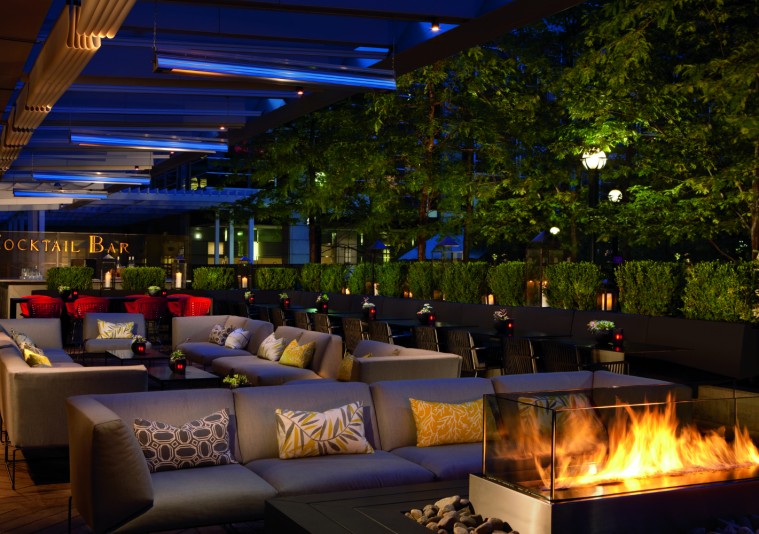 Truffle fries and sliders on the DEQ Terrace & Lounge is a solid summertime treat.
Toronto: The Ritz-Carlton
This sumptuous sanctuary draws an unsurprisingly diverse mix of international guests, many from the UK and Europe, including business travellers, bleisure travellers, families and special-occasion celebrants—and Ritz-Carlton brand loyalists with high expectations.
Vibe: A grand style pervades at the Ritz-Carlton Toronto, but never gets too showy. The hotel's definitive global feel is evident via the traditional look of high-level luxury, but classic Canadiana—via the hotel's permanent 450-piece art collection by Canadian artists or those living in Canada—makes it unique. Refreshed and streamlined public spaces on the higher floors feature carpets with swirling patterns that mimic the movement of Lake Ontario, colours occurring in nature and old-style heritage elegance.
Rooms: Find soft beds, Italian linens, traditional furniture, rich textures and a muted colour palette throughout 200 of the 263 rooms. They have lots of cabinets and closet space, plus minibars and espresso machines. Marble bathrooms have double sinks, a private toilet, a shower and a big bathtub. But splurge for one of the suites: Modern Hollywood Regency touches pervade in the form of a grey and silver colour palette punched up with gold finishings, geometric-print wallpaper, and low-slung, mustard-yellow furniture. Deco-style mirror treatments and sconces shine up an already-bright bathroom. During the night, motion-sensored lighting will lead you safely to the Kohler Intelligent toilet's blue glow.
F&B: More than half of the hotel's restaurant business is local, which speaks volumes, as competition in the Entertainment District is more than stiff. TOCA Restaurant (standing for Toronto, Canada) is full-on Italian fine dining with a refined-rustic feel—all wood floors and ceilings, tufted banquettes and hand-painted chargers. Its famous cheese cave stores a curated cache of English, French, Italian, Quebec and Ontario cheeses. The main-floor DEQ Terrace & Lounge is always busy inside and out (weather permitting), serving comfort food in the form of mini burgers, meatballs and truffle fries. The Ritz Bar at the hotel's front door is a swirl of liquid nitrogen-laden cocktails most nights. By day, it's a local coffee hangout. Have the exclusive Black Ivory Coffee ritual.
Extras: With 16 treatment rooms, the impressive fifth-floor spa is a glam retreat, the only Spa My Blend by Clarins in North America, with skin treatments that can be custom-tailored to your skin type. An enclosed Champagne Nail Bar sits adjacent to reception. The 24-hour fitness centre is run by Innovative Fitness, offering personal training and a running club. A salt-water pool sports spa jets along one side, with a small whirlpool in the corner.
Off-Site: In the thick of the Entertainment District and within walking distance of the Financial District, the Ritz-Carlton is a three-minute walk to Roy Thomson Hall (home of the Toronto Symphony Orchestra), the Metro Toronto Convention Centre, and the Royal Alexandra and Princess of Wales Theatres. The CN Tower, Scotiabank Arena (home of the Maple Leafs hockey team and the Toronto Raptors basketball team) and Rogers Centre (home of Blue Jays baseball) are 10 minutes away.
Rate: $$$$
Book Now