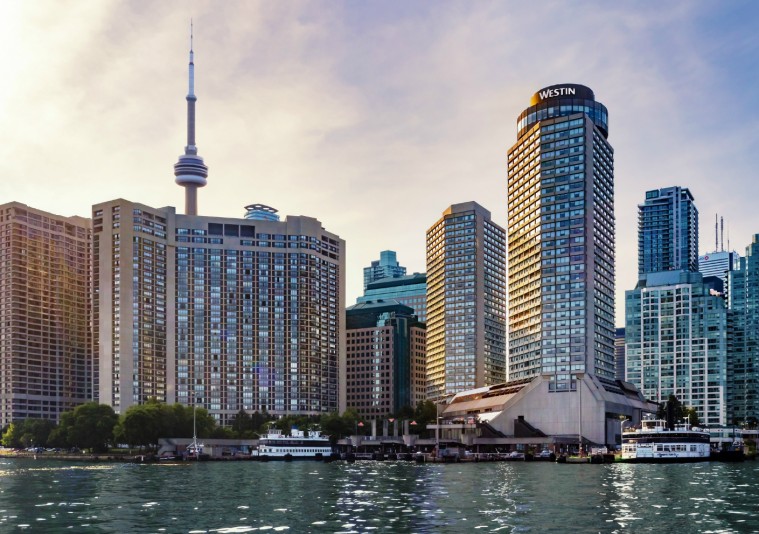 At the fitness-forward Westin Harbour Castle, the Toronto waterfront is at your doorstep.
Toronto: Westin Harbour Castle
The 977-room Westin Harbour Castle, with its two 34-storey waterfront towers, offers dreamy views of both Lake Ontario and the entire city. Built in 1975, it is the quintessential urban convention resort, with a giant gym and the largest hotel ballroom in Canada.
Vibe: A brass-and-glass style pervades throughout The Westin Harbour Castle, toned down with subtle lobby lighting, via oversized square light fixtures and backlit columns. Understated patterns, light woods and neutral tones carry on up all 34 stories of both towers. This institution is constantly busy with tourists and conventioneers, wedding parties and weekenders—all finding their needs met. Anchoring the city to the lake at the bottom of Yonge Street, the hotel manages to seem detached from the downtown bustle while still being just a stone's throw from it.
Rooms: Traditional but refreshing rooms in four categories have been revitalized with new window coverings, wallpaper and patterned carpets with sexy flecks of red, all clean lines, oak furniture and an eclectic mix of textures. Lakeside rooms sport stunning views of Toronto Island, the corner suites particularly first-rate. Bright, simple bathrooms include a moulded sink and a makeup mirror, with bath/shower combos.
F&B: Culinary treats have a wellness focus here. The Chartroom Bar & Lounge spanning the length of the lobby serves lighter fare and smart cocktails. The casual Mizzen Restaurant is for breakfast only, both via buffet and à la carte. Toulà Restaurant & Bar on the 38th floor is a high-end Italian experience with breathtaking panoramic views of the city and Lake Ontario. Innovative 14-seat chef's table, Savoury, pulls out all the stops.
Extras: A huge solarium housing the pool and whirlpool features old-school teak chaise longues and looks out onto an expansive outdoor terrace and tennis court. A 1,500-square-foot 24-hour gym sports a squash court, a yoga studio, steam rooms and saunas. Memberships are open to local residents as well. The hotel also has a gear lending program with regards to fitness, so guests can pack light yet take advantage of the club's guided summer running club.
Off-Site: Harbourfront Centre, with its full program of arts and cultural events, including two dance stages and Power Plant Art Gallery is a 10-minute walk away, as is Air Canada Centre and Union Station—linking regional and city transit systems. Lake Ontario is at your doorstep.
Rate: $$
Book Now