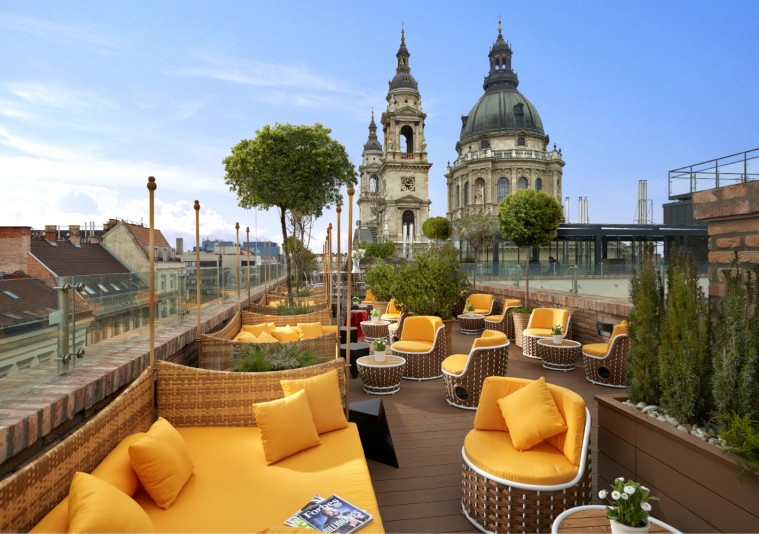 Get a faceful of St. Stephen's Basilica while you sip cocktails on the rooftop patio.
Budapest: The Aria
The Aria Hotel Budapest is both a glam refuge and a social hotspot, featuring 49 big rooms, a glass-enclosed courtyard and a year-round rooftop garden with 360-degree views, all underscored by breezy, comfortable whimsy and a solid commitment to a music motif.
Vibe: One of six properties in the Library Hotel Collection, which includes Hotel X Toronto, the Aria is a bright and bold, bottomless pit of quirky luxury, with each room celebrating the work of a star from the worlds of jazz, classical and contemporary music. An eccentric elegance permeates throughout, from the hurricane lamp-lined entryway along a piano-key pathway, through a glass-enclosed courtyard, past gold sconces and a grand piano, right on up into a sumptuously simple rooftop patio.
Rooms: Large rooms face the city or the courtyard, ranging from studios to three-bedroom suites. Expect caricature-style portraits of your particular musician or composer lording over bold colours and unexpected patterns, from stripes to toile. Marble bistro tables and mantels mix with oval-shaped velvet furniture, colourful tables and cabinets, coffered ceilings and Kartell lamps. Five-piece Italian onyx bathrooms have heated towel racks and Molton Brown amenities. Sun rooms on the top floor let in the light.
F&B: Presentation is absolutely everything here. Liszt Restaurant promotes rich, historical dishes with a modern twist—smoked trout, venison tartare, pumpkin carpaccio, roast goose. The chef's table is particularly satisfying. The blue and green Mirror Room out front is perfect for lunch or cocktail hour and the seasonal street-side patio prompts plenty of people-watching. Free wine and cheese afternoons in the courtyard are a nice touch. The High Note SkyBar with its bright yellow and rattan seating is a sea of gorgeous with a full view of St. Stephen's Basilica next door.
Extras: Yoga on the roof, anyone? The sexy, jazzy pool area is fun and fanciful, attached to Finnish and infrared saunas, steam rooms and whirlpools. You can even have breakfast there. Harmony Spa carries on with the musical theme with an "orchestra" of sensory experiences to indulge in.
Off-Site: This is the city centre on the Pest side of the Danube River steps from the Danube Promenade, so nothing is very far away. The Budapest Eye ferris wheel and the cafés and bars of Elizabeth Square is a short walk away, as is the lovely Liberty Square park. Buda Castle and many of the art museums are a 20-minute stroll across the river.
Rate: $$$
Book Now