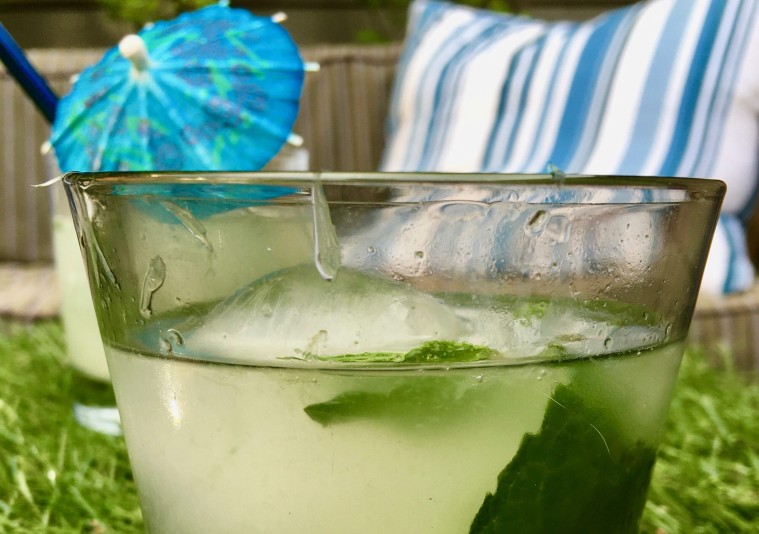 Nothing says "day at the urban beach" like artificial turf and little tiny umbrellas. (Doug Wallace)
Caipirinha-caipiroska-caipirão
FORTALEZA, BRAZIL—What's in a name? Pandemic-drinking our way through the liquor cabinet, which is actually two cabinets (maybe not for long), I came across a half-bottle of cachaca (ka-SHA-sa), a sugar cane brandy, the most popular spirit in Brazil. I remember buying it in the central market in Fortaleza in the northeast, famous for its urban beaches—so, out come the little umbrellas for caipirinhas (KY-per-EEN-yas, OK I'll stop doing that now).
The caipirinha is Brazil's national cocktail, sort of like a mojito, a refreshing mixture of sugar, lime and booze. It tastes like a beach vacation. Bizarrely, it is thought to have been invented in Portugal in 1918 for patients with the Spanish Flu. Other stories peg it to the mid 1800s Brazil, when rich landowners in São Paulo enjoyed it as a fancy society party drink.
How to Make a Caipirinha
1. Cut one lime into eight pieces and muddle in a cocktail shaker with three teaspoons of icing sugar.
2. Add .5 oz. of simple syrup, 2 oz. cachaca and ice.
3. Shake and strain into glasses filled with even more ice.
4. Garnish with mint. (I sometimes even muddle the mint.)
SERVES 1
And umbrellas, of course. Keep the spent limes in the shaker and just add more to it for the next round. You can buy cachaca at the LCBO no problem.
When the cachaca ran out, we substituted vodka, and the drink became a caipiroska. Next time, I'm going to use Beirão, the official liquor of Portugal, and create the caipirão. This makes the cocktail more herb-y and we will probably skip the sugar or at least use less. Surf's up!