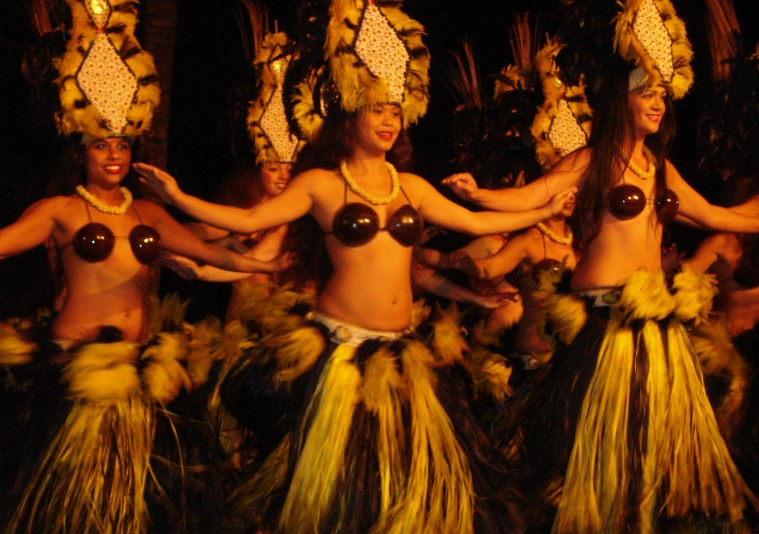 Maui has been championing its cultural heritage long before it was cool. (Doug Wallace)
Hawai'i: Maui
With volcanoes, rainforest and waterfalls, plus white, red, green and black sand beaches, Maui is a cross-platform, multi-culti eco-retreat.
You and your Chrysler Sebring convertible can easily get lost in Maui if you want, finding Hawaiian villages that look the same as they have for decades, or dip your toe where the action is—or both. The old whaling town of Lahaina, which used to be the Hawaiian capital, is now a mix of heritage and hotspot with galleries and shops.
If you're thinking about braving the road to the isolated Hana, note that Hana Highway is also referred to as Divorce Highway, so swim at your own risk. George Harrison used to live along here, though, so it must be cool.
Do the strip. The Kaanapali Beach string of hotels is worth investigating for the terrific value and for the busy beach fun. Work this into your itinerary for a few days, just to shave a few dollars off the credit card. There's terrific golf nearby and of course, the cliff-diving. The beach is more swimmable than others, with tide pools that make it family-friendly.
Dig your pig. A traditional Maui luau, particularly the Old Lahaina Luau, serves incredible meals wherein your supper is buried in the ground with a bunch of hot rocks for a few hours before you arrive at the party, then dug up and served. Along with a show of course: the traditional cultural dancing is quite fun, like you're in an Elvis movie. Coconut bras! Skimpy shorts on the boys! Yes, this is a touristy thing to do, but servers have it down to a science and the open-bar drinks are strong.
Eat on the street. Fish tacos from the trucks in the beach parking lots are incredible. Do not pass these up, even if you're not hungry. Just have lunch twice.
Get spammed. Canned Spam, a.k.a. mystery meat, worked its way into Maui's diet during the Second World War—most likely for its portability and indestructability—and never left. You can find it on restaurant menus in a variety of dishes, stir fries and sandwiches, and even on convenience store counters as point-of-purchase spam musubi, wrapped with rice and nori.
Climb the crater. Stunning panoramic views, unique flora and fauna, frosty fresh air—all this and more at the dormant Haleakala Crater, where you get a birds-eye view of the island. This eroded volcanic mountaintop within a national park is well-worth the scary drive up. Many people go for the sunrise. Whatever time of day, bring a toque. Not kidding.
Go big or go home. Spa Grande was named one of the Top 10 Spas in the U.S. by Conde Nast Traveler and Travel & Leisure magazines. Not bad clout. Located within the Grand Wailea Resort, the spa has a philosophy that straddles both Eastern and Western ideologies. There are more than 100 treatments, including a Seashell Massage, a Haleakala Dream Bath, a Volcanic Ash Facial and the Pohaku (Hot Lava Stone) Massage.
Take it off. Speaking of big, while you're over in the Wailea area of Maui, pop into nearby Makena Big Beach for an afternoon, just a 10-minute drive south. (Mind the waves.) From Big Beach, walk over the lava-flow trail to Little Beach, the island's clothing-optional, gay-popular beach. (Mind the bushes.) A certain redhead I know braved the sand with no sunscreen and so our visit was short-lived but memorable.
Put on the Ritz. If you find yourself renting one of the private villas and condos in the northern Kapalua district, if and when you tire of lounging by your plunge pool, book a spa appointment at the Ritz-Carlton Kapalua, then ask if you can spend a bit of time at the pool. Order up a post-treatment Lava Flow and let your experience really sink in.