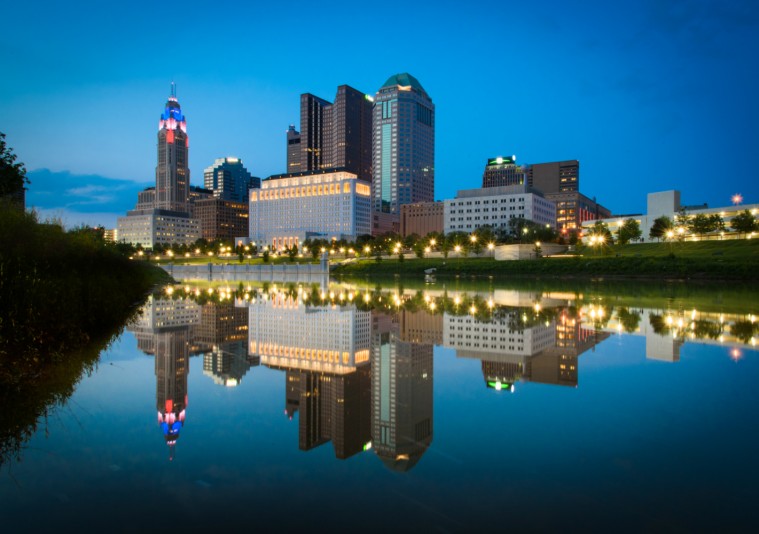 Reinventing itself since the early '80s, Columbus is an extremely pleasant weekend waiting to happen to you. (Experience Columbus)
Columbus
The modern Mid West's favourite boom town is still booming. Columbus is kind of like the overlooked middle child that never gets the attention it's due. Slowly reinventing itself since the early 1980s, the 14th biggest city in the United States (with a population of just over two million) is a revitalized and relaxed weekend waiting to happen. Get it happening.
Make camp. Set yourself up in the trendy part of town, the Short North arts district, the art and soul of Columbus. This urban and urbane enclave on North High Street is packed with sharp boutiques, craft-beer bars, coffeehouses, eateries, galleries and general fun stuff. (The name was coined by the police decades ago, a shady part of town that had fallen "short" of the CBD's more prosperous north end.) You're staying at the value-driven Moxy Short North, distinct for its colourful vibe, warm welcome and efficient yet stylish digs.
Look at art. The Columbus Museum of Art is a community oriented art space loaded with beautiful things and a very enthusiastic and varied programming mandate. Collections include late 19th– and early 20th-century American and European modern works, plus contemporary art, folk art, glass and photography. The Wexner Center for the Arts is the Ohio State University's multidisciplinary melting pot for contemporary art, home to exhibitions, performances, film screenings and more. Check the website of each to see what's what and then wander over.
Walk in the park. The Franklin Park Conservatory and Botanical Gardens celebrates nature with 13 acres of lush gardens, botanical enclosures, horticultural and art exhibitions, and seasonal shows. The very cool Topiary Park near the big library is just that, a showcase for shrubs, currently depicting figures from the George Seurat painting "A Sunday Afternoon on the Island of La Grande Jatte."
Chow down. You're spoiled for choice in Columbus when it comes to impressive culinary fixings—this is not just a throw-away overstatement. The Guild House serves three square American meals a day showcasing local, artisanal goodness; breakfast is especially good. The paella and tapas at Barcelona befits its ranking as one of the top restaurants in town, going on 25 years. The absolutely fantastic Service Bar delivers inventive American food from a mix of influences in a distinctly Danish-inspired interior. The bold and varied New American cuisine at Goodale Station Restaurant & Bar is worth the trip to the top floor of the Canopy by Hilton—go early and have a cocktail first. The hip Ambrose & Eve sports an eclectic menu loaded with global flavours and simple comfort in quaint, quasi-kitschy surroundings. If you find yourself near the 145-year-old North Market, grab a bite of something on-site or pick up a selection of doughnuts, hot sauce, ice cream, spices, pastas, the list goes on.
Have a gay old time. The LGBTQ trifecta on South High Street is a bar-hopping good time, relaxed and uncrowded. Start off at Club Diversity piano bar for a show tune or two, or maybe a smart cocktail in the garden patio, before taking the party over to the Tremont Lounge for craft beers and shots. Finish up by loving up the drag queens at Boscoe's Bar. If it's Saturday night, the Axis Nightclub is where everyone heads for the stellar drag revue.
Shop local threads. Keep an eye out for Olly Awake, a cool line of simple-chic, gender-equal, clothing made of ethical fabrics by Celeste Malvar Stewart and Kevin Terry Smith. For glamming up, luxe and local formalwear from Ferreyros Couture by Peru-born Juan Jose Saenz-Ferreyros hits all the high-style notes.
Face off. If your timing is right, watch the Columbus Blue Jackets in action at Nationwide Arena. The goaltender's name is Elvis.