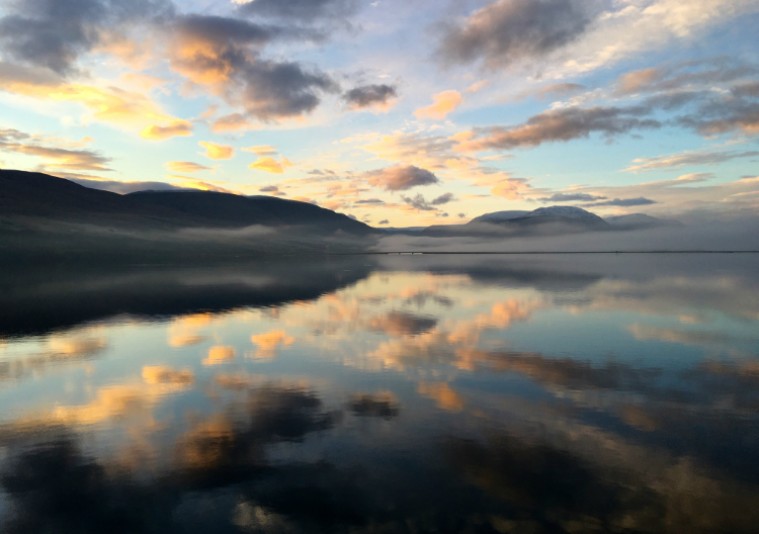 Eyjafjörður Fjord is one of Iceland's longest at 60 km. (Doug Wallace)
Iceland: Akureyri
Settled in the 9th century, the unofficial Capital of North Iceland at the bottom of Eyjafjörður Fjord is a little pocket of pure Icelandic flavour, with just an icing of kooky to make things interesting.
With just 20,000 people, Akureyri is big enough to be bustling, but small enough to be cozy, the best of both worlds. It's the main port and fishing centre in the north, thanks in part to an ice-free harbour. This is due to a mild, sub-Arctic climate, which puts the winters at about -2ºC and summer's highs at about 15ºC.
Whether you're going in June to take advantage of the 23-hour sunlight or visiting in November to see the Northern Lights, rent a car and drive around for a week. The landscape is incredible, the people sensible and the activities unique.
Make camp. There are a number of hotel offerings to sift through, but you're staying at Icelandair Hotel Akureyri. Cozy, comfortable, bright and airy, this no-nonsense spot is used to the traffic of people popping in for only one or two nights. In the winter, the hotel also makes extra effort to accommodate skiers with a heated ski storage area with lockers and a private entrance. And the ski bus stop is right at the hotel's front door.
Make a splash. Right across the street from the Icelandair Hotel, the geothermal Akureyri swimming pool is one of the best in all of Europe. There are two 25-metre outdoor pools, an indoor pool, four hot tubs, a steam bath and sauna and all of it is open year-round. This is a perfect winter afternoon, pre-nap soak.
Fill up. There's a surprising number of great places to eat in Akureyri, depending on what you feel like. Head to Greifinn for pizza, Bautinn for comfort food, Rub23 for steak and sushi (this is a night out), Götubarinn for tunes and suds (this is where all the kids are) and Hamborgarafabrikkan for square hamburgers on square buns. Tipple tip: Lava-filtered water makes Reyka Vodka an international award-winner.
Get out. Besides the different museums, gardens, Hof Cultural Centre and the amazing Akureyri Church, there are multiple things on the to-do list, many of them out of town. Godafoss and Dettifoss waterfalls and Asbyrgi canyon are well worth the drive. Make the road trip a complete circle, encompassing a trip around Lake Myvatn and a stop at the peaceful and rustic Myvatn Nature Baths, a geothermal spa—seriously, do not miss seeing this place.
Straddle the crack. Before heading back to Akureyri, stop at the nearby Grjotagja Cave. Iceland is on a volcanic seam, at what's called the Mid-Atlantic Ridge, essentially where the tectonic plates of North America and Europe meet. Here you can stand with one foot on each plate, astride two continents.
Get crazy. Halfway up the inlet, there is a Beer Spa where you can have a beer bath. And just south of town, there's a Christmas store with giant liquorice allsorts on the roof. This is where your souvenir money comes out.
Hit the slopes. With seven lifts, 23 slopes and a 450-metre vertical, Hlidarfjall Ski Hill is Iceland's top place for skiing and snowboarding, the snow lasting longer than anywhere else in the country. Bonus points for it being only 5 km from town.
Zen out. Minimal light pollution means more chances to see the Northern Lights in Akureyri on a clear winter night.