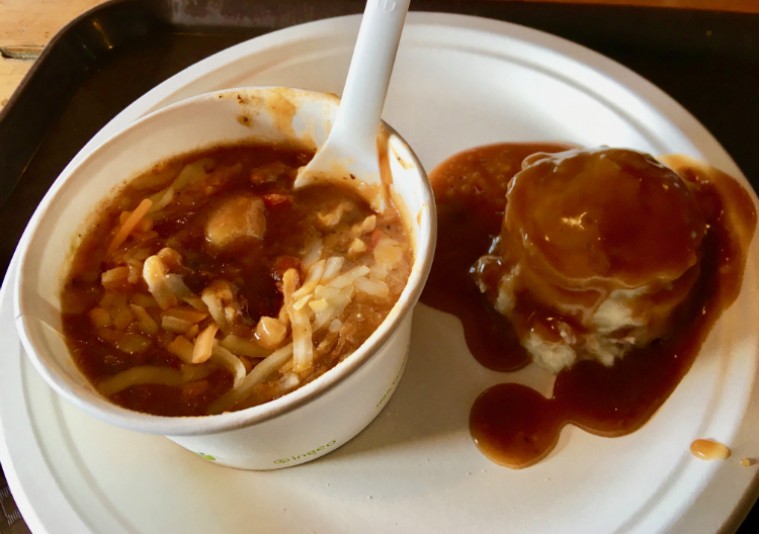 Sink into a goulash lunch at Horstman Hut on Blackcomb Mountain. (Doug Wallace)
Get a goulash hug
WHISTLER, BC—For whatever reason, Facebook seems to think that I need to order take-out from Country Style, Toronto's venerable Hungarian comfort food restaurant, even though it's miles from my house and 35º in the shade. I keep seeing the ad over and over, reminding me of the Canadian-Hungarian boyfriend I once took there on his birthday.
All through summer's ubiquitous salads—cous cous! palm hearts!—I seem to crave mashed potatoes and gravy, lamb shank and gravy, really anything with gravy, including poutine, which I've taken to making at home in my own little COVID world. (Being gluten-mostly-free, I can't in good conscience eat sourdough.)
Hungarian Goulash—wow, talk about burying the lede—is one of my favourites year-round, and I keep a stash of it in the back of the freezer in case I need a little stew hug. It sits next to the plastic tubs of Coq au vin; similar idea, different country.
This picture comes from a trip to the top of Blackcomb Mountain during a pitstop at Horstman Hut, elevation 2,300 metres. The little Alpine hut also serves things like pot pies, bangers and mash, perfect for a winter mid-ski lunch. It doesn't look like much, but it was truly exquisite.
My all-season Hungarian goulash goes in the slow cooker, spiced with onion, clove, paprika, caraway, coriander and thyme. I use a recipe from Food & Wine with four pounds of diced beef short ribs, which I get from Meating on Queen—they're Ecuadorian and know everything about meat. I serve it on buttered noodles with sour cream, close my eyes, and I'm back on the farm in Budapest…