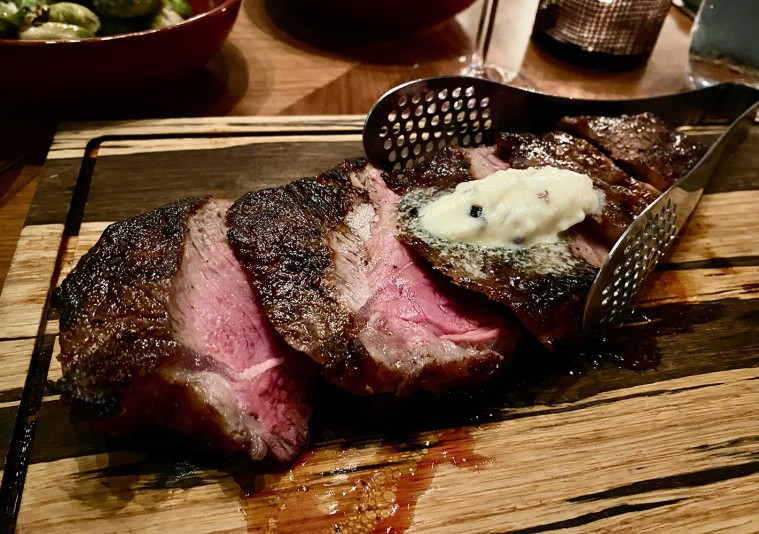 Steak night never tasted so good—La Central by Mario Pagán. (Doug Wallace)
Where to Eat in San Juan
SAN JUAN, PUERTO RICO—Luckily, I packed the stretchy pants. And shirts that don't really need to be tucked in. Happily, the gastronomic delights we found throughout San Juan hit all the right notes, a taste explosion from the food trucks to the haute patios. Good food is everywhere, but here are a few tips on where to eat in San Juan to get you salivating before your trip.
• Ropa Vieja Grill  has a giant patio with live music, so you really can't miss it on Ashford Avenue in Condado. It's music you'd actually like to listen to, too, and not too loud. The restaurant is busy with both locals and tourists lapping up fresh fish, roasted meats, mofongo swimming in garlic oil—all very comforting and tasty.
• 1950 Condado just down the street from the Ropa is also local, straight-ahead Puerto Rican fare, meat- and fried-forward comfort food, like pork and red-bean rice, sofrito everything, fish tacos, frothy drinks.
• Lote 23 is a fun, open-air food court in the city's Santurce neighbourhood, filled with picnic tables and ringed with little kiosks and trailers. You pitch up to the counter windows and order burgers, chicken sandwiches, mofongo, pizza, even cocktails. There are families and groups of pals, a nice vibe and good music. This is a fun casual night out.
• Jungle Bird sits just off the busy La Placita, serving up tropical Taíno-inspired cocktails, inventive Caribbean-Asian fusion, local ingredients, simple and fresh flavours. Great value, too.
• Sabrina sports a laid-back cool vibe, casual but upscale, all pink and green and lush. Chef Juan Camacho turns out salmon with quinoa salad, a rich fish stew, yellow fin tuna, a local crudo, light desserts. Yes, it's named after Audrey Hepburn.
• La Central by Mario Pagán fires up the wood stoves within the Distrito T-Mobile complex for steaks the size of your head, ribs, chicken, branzino, swordfish, served with à la carte sides. Save room for the caramel corn brûlée.
• Raya by Mario Pagán on the main floor of the very cool O:LV 55 Hotel hums with the sound of cocktail-shaking and the oohs and aahs from patrons sitting down to Caribbean-Asian fusion. Sake and Japanese whiskey-infused cocktails are surely satisfying. The restaurant is also responsible for the food served on the Arya Rooftop lounge. Make a date for sunset.